Manuscript Editing Service & Prices
The procedure for using our professional editing and proofreading service is very easy:

1. Upload manuscript

2. Confirm quote

3. Editing process

4. Author approval

5. Payment*
*Please note that we offer the postpay option only for orders below €500 and returning clients or clients from the EU who can provide an official purchase order from their institute/company.
---
---
We offer two different levels of editing
Standard Editing€0.046

per word
Eliminating errors in grammar, spelling, and punctuation
Checking for accuracy in language, structure, and rhetoric expressions as well as consistency in tense
Improve word choice, style, academic tone, sentence structure, comprehension, and terminology
Highlighting of obvious issues
Free Editing Certificate
Premium Editing€0.065

per word
All of Standard editing plus
Intensive editing including more substantive rewrites (may be required depending on the level of English of your manuscript)
Reduction of word count if required by target journal or funding agency
Fine-tune manuscript for enhanced readability and logical flow
Edit cover letter to journal editor (free for ms with >3000 words)
There is a minimum charge of €25 per order.
Not sure which plan to choose? You can send us your document for a free evaluation using the manuscript submission form. We will then recommend a level of editing depending on the amount of corrections required. The example below shows the level of editing for the standard package.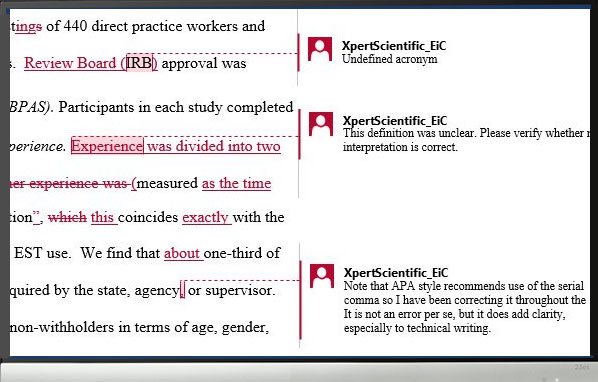 Example showing the level of editing for the "standard editing" package.
Optional Extras
We also provide a quote calculator to help you estimate the expected cost of your order.
Editing the cover letter
We help you write the cover letter to the target journal editor (included in the Premium editing package for manuscripts >3000 words)
€35.00
Artwork preparation
We can create figures from your data or revise existing graphics to ensure they meet the target journal's style criteria, are technically accurate and aesthetically pleasing. Price per item
€35.00
Abstract writing
If you have difficulties condensing your work into a powerful abstract, our experienced editors can help you with the formulation of abstracts and capsules
€75.00
Rush orders
Our turnaround time depends on the length of your manuscript (see "Turnaround" section below). If you require a faster processing of your manuscript we do offer a rush service which carries a
30% surcharge
Formatting to "Author Guidelines"
We format the manuscript according to the target journal's Author Guidelines. This includes headings, margins, indents, tables, captions, etc., but excludes the references (see Reference Checking)
€80.00
Basic reference checking
We verify that all citations in your text are listed in the references, and vice versa. In addition, we check for correct ordering both in the text citation and the reference list
€1.00 per reference
Comprehensive reference checking
This includes everything from the "Basic" package. In addition, we adapt your references to the target journal style; we thoroughly check each reference for errors and add any missing information such as DOI numbers
€2.00 per reference
Help formulating reviewer responses
We can help you respond to reviewer comments through language and general scientific advice (e.g, performing additional statistical analyses).
Hourly rate:
€85.00
Turnaround
Our turnaround times depend on the length (word count) of your document. To find out the turnaround time for your document, please enter the word count below (note that rush orders carry a 30% surcharge). Please contact us directly for a specific quote if your document is very large (> 25,000 words). Thank you.
Word Count: Normally:

?

Rush orders:

?
Editing certificate
Upon request, we are happy to provide you with a free proofreading certificate to confirm that a document has been proofread and edited by one or more of our expert editors.
These certificates can be used when you submit your paper to academic journals and publishers. In order to obtain a certificate, please simply include the request at the time of submitting your manuscript to us.
Discounts
Group or volume discounts
If you would like to use our services to edit a large number of papers (e.g., for your entire research group or department), subscription plans are available which provide discounts on the per-word pricing plans shown above. Please contact us to obtain a specific quote for your needs.
Revised manuscripts
For revisions (i.e., manuscripts that have been sent back to the authors for revision), we offer up to a 30% discount, provided that the original submission was already edited by us.
---
Recommended by Publishers and Societies

---