Editing and proofreading of your research paper, scientific article, proposal, thesis, ...
At XpertScientific, we provide professional English language editing and proofreading services for authors and publishers of scientific research documents, including research papers, theses and dissertations, presentations, grant proposals, conference abstracts, CVs, etc. We have assisted authors in the publication of thousands of research papers, many of them in leading journals with very high impact factors.
Our services cover the full spectrum of academic publishing:

editing and proofreading to produce a publication-ready manuscript,
formatting the manuscript according to the target journal's author guidelines (incl. reducing word count),
uploading the article to the journal website and handling all communication with the journal,
assisting with the peer review process,
formulating the responses to both the peer reviewers and the journal editor.
The procedure for using our professional editing and proofreading service is very easy:
*Please note that we offer the postpay option only for orders below €500 and returning clients or clients from the EU who can provide an official purchase order from their institute/company.
---
---
We offer different editing packages
The Standard Editing package is intended for manuscripts that already have a relatively good level of English and only require a limited number of corrections without any major rewrites or text re-organization. If your paper requires many and/or more substantial corrections, please choose the Premium Editing package instead. For additional peace of mind (free re-edits for one year) and a more comprehensive assistance (we handle the paper submission and communications with the journal plus the peer review), you can choose our Carefree Package. See this page for a full feature comparison.
Not sure which editing level you need? You can send us your document for a free evaluation using the manuscript upload form and we will recommend the appropriate package for the amount of corrections required.
Eliminating errors in grammar, spelling, and punctuation
Checking for accuracy in language, structure, and rhetoric expressions as well as consistency in tense
Improve word choice, style, academic tone, sentence structure, com­pre­hen­sion, and terminology
Direct line to your editor
Highlighting of obvious issues
Free Proofreading Certificate
Post-editing support
Acceptance Guarantee (see below)
All of Premium editing plus
Formatting of text and references according to the target journal's author guidelines
Handling article submission and all communication with the target journal
Complimentary priority (rush) service
Assistance with peer review process: incorporating reviewer suggestions into manuscript and formulating responses to peer reviewers and journal editor
Free re-edits and reformatting for 365 days (limited to minor changes of originally edited manuscript)

*We use a variable per-word price that is higher for shorter documents and lower for longer documents. The prices shown above represent the per-word cost for a 25,000 word thesis or book chapter. To calculate the cost for your particular manuscript, please use our quote calculator.
Please note that there is a minimum charge of €35 per order.

Acceptance Guarantee
If a journal rejects your paper merely because of its English proficiency, although you accepted all our edits and made no further changes prior to submission to the journal, we will re-check your manuscript for free and formulate a rebuttal letter to the journal (see our FAQ section).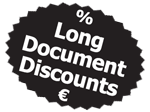 Discounts for large documents
The prices shown here are for a 25,000 word document. Bespoke discounts may be granted for larger documents such as books or theses upon request. Simply send us an email with your word count and subject area and we will let you know.
Our Quality Guarantee

Unlike some of our com­pe­ti­tion, we neither employ automated AI systems nor undergraduate students from low income countries to proofread your manuscript. All our editors are experienced academics with PhD and/or MD degrees from highly regarded universities who will take the time needed to correct not just simple spelling and grammatical errors, but, more importantly, improve logical flow, awkward phrasing, word choice, and academic tone. These types of corrections are more time consuming and require an editor who not only understands the science but who possesses the necessary experience and abilities to be able to suggest improvements at this level. The many positive client testimonials show that our approach is the right one.
Some of our clients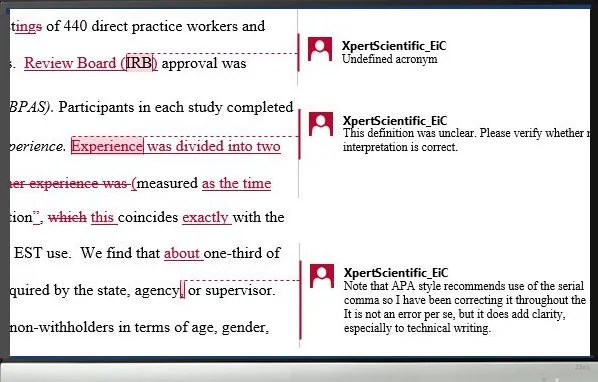 Example showing the level of corrections for the "Standard editing" package.
Editing & Proofreading - Optional Add-ons
Below is a (non-exhaustive) list of our most commonly requested optional add-ons for our editing and proofreading services. You may use our quote calculator to estimate the expected cost of your order.
We offer additional services such as help formulating the reply to reviewers, synthesise internal reports into a publishable manuscript, perform statistical analysis, prepare posters or artwork/tables from your data, etc., as part of our scientific consulting services.
Rush orders*
Our turnaround time depends on the length of your manuscript (see "Turnaround" section below). If you require a faster processing of your manuscript we do offer a rush service which carries a
25% surcharge
Direct line to your editor
Unlike our competitors, we provide you with a direct Q&A line to your editor. You can provide supplementary infor­mation or ask questions regarding the corrections.
This service is included free of charge in all our editing packages.
Help formulating reviewer responses*
We can help you respond to reviewer comments through language and general scientific advice (e.g, performing additional statistical analyses).
Consulting job w hourly rate:
€85.00
Formatting to "Author Guidelines"*
We format the manuscript according to the target journal's Author Guidelines. This includes headings, margins, indents, tables, captions, etc., but excludes the references (see Reference Checking)
€55.00
Reducing your word count*
If you manuscript or abstract exceeds the maximum allowed length by your target journal, we can help you eliminate superfluous phrases and reduce verbosity.
This service is included in the Premium editing package.
Artwork preparation
We can create figures from your data or revise existing graphics to ensure they meet the target journal's style criteria, are technically accurate and aesthetically pleasing. Price per item starting at:
€40.00
Editing the cover letter*
We help you write the cover letter to the target journal editor (included in the Premium editing package for manuscripts >3000 words)
€35.00
Abstract writing
If you have difficulties condensing your work into a powerful abstract, our experienced editors can help you with the formulation of abstracts and capsules
€45.00
Poster creation
We can turn your text and graphics into a powerful and visually appealing poster for presentation at scientific meetings. Prices starting at:
€175
Plagiarism Check
We use i-Thenticate to ensure that your manuscript is free of (self-)plagriarism. This includes documents with up to 25,000 words and up to 5 re-checks of the same (revised) manuscript within a 12 month period.
€100
Free round of re-editing
If, after receiving the edited manuscript, there are still some open questions or you want to make some minor changes prior to submitting your article to the journal, we will revise them free-of charge as part of the Premium editing package.
Handling article submission & communication with journal*
We will submit your manuscript to the target journal and handle all the communication with the journal editors on your behalf, while keeping you posted on any progress.
€150
Unlimited re-edits for 365 d*
We perform re-edits of your manuscript for 365 days (e.g., if you made some changes after the peer-review). This is limited to minor changes. If the changes are more substantial, we reserve the right to charge a small additional fee.
€0.02 per word
Basic reference checking
We verify that all citations in your text are listed in the references, and vice versa. In addition, we check for correct ordering of both in-text citations and in the reference list
€1.00 per reference
Comprehensive reference checking*
This includes everything from the "Basic" package. In addition, we adapt your references to the target journal style; we thoroughly check each reference for errors and add missing information (e.g., DOIs)
€2.00 per reference
*these items are included free of charge in our Carefree package
Turnaround time
Our turnaround times depend on the length (word count) of your document and include both weekends and holidays as we are open and operational 24/7/365. To find out the turnaround time for your document, please enter the word count below (note that rush orders carry a 25% surcharge except with our Carefree package). If your document is very large (> 25,000 words) please contact us directly for an estimate of the turnaround time. Thank you.
Word Count: Normal: ? Rush orders: ?
Proofreading certificate
Upon request, we are happy to provide you with a free proofreading certificate to confirm that a document has been proofread and edited by one or more of our expert editors.
These certificates can be used when you submit your paper to academic journals and publishers. In order to obtain a proofreading certificate, please simply include the request at the time of submitting your manuscript to us.
Discounts
Group or volume discounts
If you would like to use our editing and proofreading services to correct a large number of papers (e.g., for your entire research group or department), subscription plans provide discounts on the per-word pricing plans shown above. Please contact us to obtain a quote that meets your specific needs.
Revised manuscripts
To edit and proofread revised manuscripts (i.e., manuscripts that have been revised by the authors after peer review), we offer significant discounts depending on the level of revisions made by the author and provided that the original manuscript was already edited by us.